About Us
Experience of over 30 years in business
Founded in 1981, TECNOFUND is a pioneer in the manufacture of digital and electronic equipment for the control of foundry sand.
Latest technology serving most of the major foundries in the country, always ensuring quality in products, services and care.
The TECNOFUND exports currently its products to some countries of Mercosur and Europe, among them are Argentina, Bolivia, Chile, Colombia, Peru, Mexico, Canada, Italy and others.
We work with the most reputable transportation and logistics companies in Brazil which ensures speed and safety in the delivery of products sold.
The TECNOFUND has a Quality System implemented according to ISO9001: 2008 standards and Environmental License Summary.
Since 2004 the TECNOFUND complies with the ISO9001 standard. Your calibration laboratory is approved by the Rede Mineira de Calibração (RMMG).
» Click here to download the BVQI Certificate (PDF)
» Click here to download the Environmental License Summary (PDF)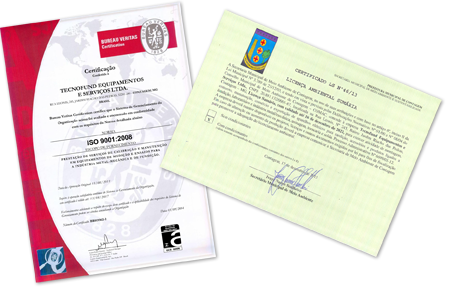 Contact
And request a visit from a representative. It will be a pleasure to serve you!